Your one-stop tracing tool
Get the answers you need, fast.
The only search engine that combines top industry tools, to help you find the people you're looking for.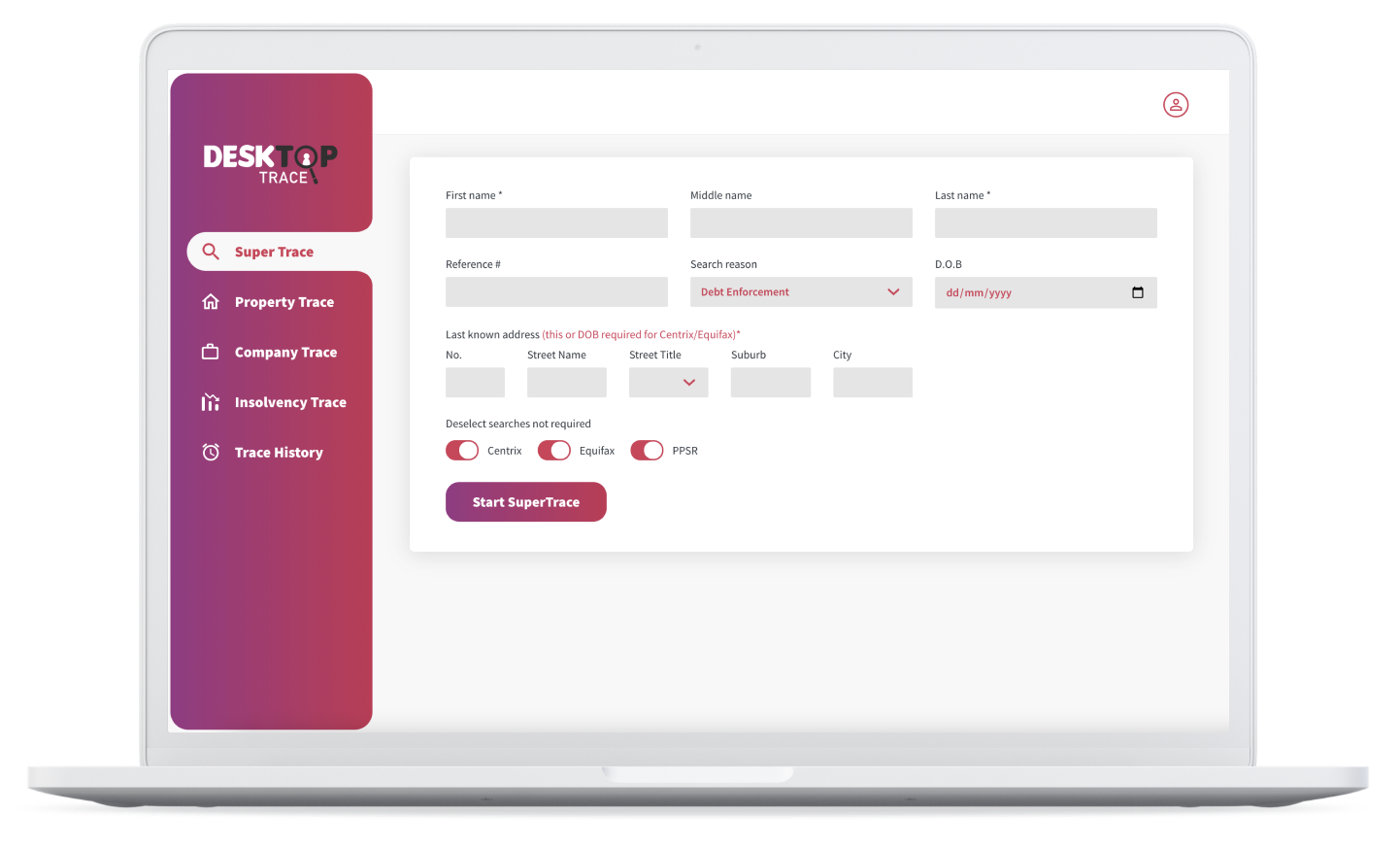 Features
DESKTOP TRACE COMBINES TOP INDUSTRY TOOLS
Debt, credit, property, legal – whatever you're searching for, we've got you covered.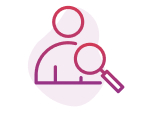 CENTRIX
The most comprehensive account payment data and credit information on 95% of Kiwis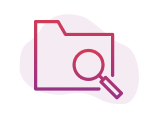 EQUIFAX
Holds data for more than 3.4 million credit-active individuals and approximately 600,000 businesses throughout New Zealand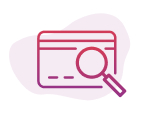 PPSR
An online noticeboard where details of security interests in personal property can be searched
Benefits
Skip Tracing
NOUN /skɪp/ /ˈtreɪ.sɪŋ/
The action or practice of locating people who are missing or have defaulted on debt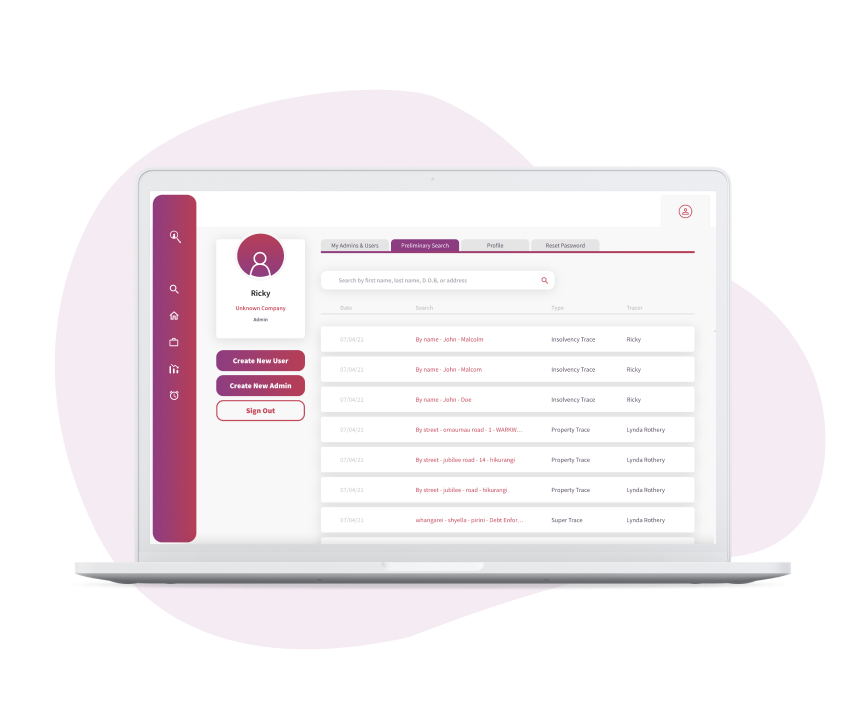 Why Desktop Trace works better
Combines the most comprehensive search platforms in this industry in the one place. You'll save time, money, and get answers, quick smart.
Trace someone simply with the touch of a button
30 second search, all the answers in one place
Property check – search by street, name, business, or title
Companies check – search by name or company
Background articles, tenancy tribunal decisions
Bankruptcy check
Social media links
About Desktop Trace
We've been searching for people for years! We've helped our clients locate many thousands of debtors who have skipped, through our business Desktop Investigations. Borne out of the need for a database that provides up-to-date and correct information, we created our own tracing search engine.
Why shouldn't there be a simpler way for people to obtain industry level information to track someone properly? Finding people is our key area of expertise. We have access to a vast array of information databases – and we want to give you the same user-friendly access.
Desktop Trace is the only product available in New Zealand that combines credit reporting bureaus, as well as other industry tools, in one place.
It's streamlined, simple to use and designed by experienced legal investigators.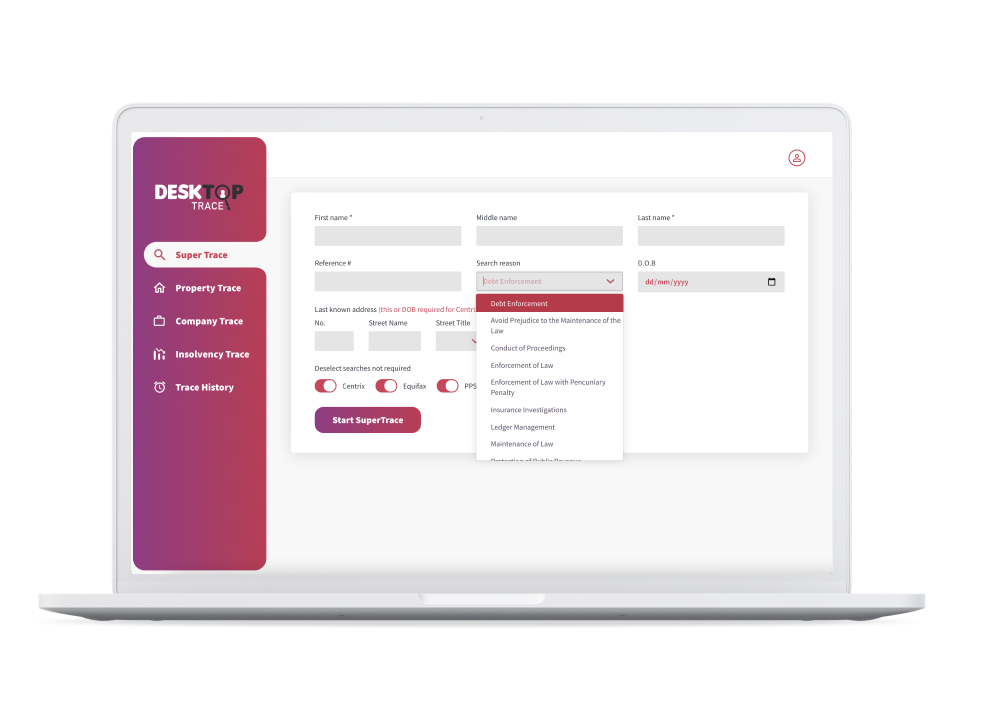 One off
$

25

payment
Ideal if you need a one-off trace 
Pay as you go – contact us with details
All prices excl. GST
Solo
$

39

Monthly
1 User
Contact us for custom pricing for search engines Centrix, Equifax and PPSR
All prices excl. GST
Team
$

99

Monthly
3 Users + $25 extra User
More than 10 in your team? Contact us for custom user pricing
All prices excl. GST
Can't find what you're looking for?
We have a skilled Private Investigation team who have a very high success rate when tracking down the people you're searching for. Talk to us at Desktop Investigations.